She was found murdered in a hotel room…
Kayla Moon is dead at age 34. She was found shot to death in a Highland Park, Michigan hotel on June 1. As of this writing, there have been no arrests, no suspects have been named, and her murder remains under investigation. Kayla was best known for her work with Grooby Productions and appeared in several of the studio's videos on its premium member site.
In a statement, Grooby CEO Steven Grooby had this to say…
This no longer comes as a surprise. While it's still shocking to us, the rate and amount of trans people being murdered by violence, and especially trans women of color continue to increase. Our performers, Chastity Cheeks and Kandii Redd, were both murdered in the last 12 months and the amount of anti-trans rhetoric, anti-trans laws, and the viciousness of the media have to take responsibility for this.
How can we be surprised that trans deaths by violence are increasing when there are people in our own industry, which in 2023 is meant to be inclusive and acceptive, who still are allowed to preach their transphobic views on industry boards, or deny that there is a problem, and instead choose to blame it on the victim. We're sick of it. These are people being killed. They have lives, friends, and family and they are targeted because not enough people are standing up for what is right, and calling out bigotry when they see it. If you are transphobic, homophobic, racist, or misogynist, then there is no place in this industry for you.
Who was Kayla Moon?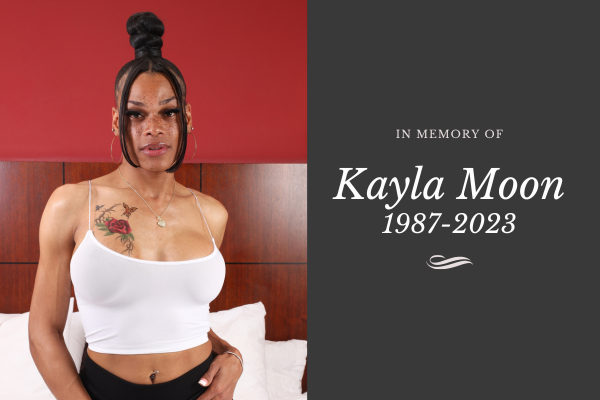 Kayla Moon was an American XXX starlet who began her adult film career in 2012. She appeared in a small handful of videos that year and then took time away from the industry and made her return in 2021. Kayla performed exclusively for Grooby Productions and appeared in about a dozen videos for the studio.
In 2022, Kayla was nominated for her first Trans Erotica Award, receiving a nod for the Ms. Unique trophy. In terms of her video work, highlights of hers include videos such as Black T-Girls 2021: Models of the Month, Lanay Gets Fucked, and Kayla Moon Is Back.
Rest in peace, Kayla Moon…
While she didn't appear in a huge number of films, Kayla Moon was still able to stand out thanks in large part to her charm, talent, and ability to connect with her fanbase. The fact that she was taken from this world by such a cowardly, senseless act of violence should make all of us pause and reflect on the current state of our society and how much better we all need to treat each other.
Kayla Moon first appeared on a Grooby site in 2012 and next appeared in 2021 with a new look and quickly became one of the most requested models, appearing in solo and partnered shoots produced by Kilakali for Black-Tgirls.com and BobsTgirls.com. Her sets were among the most popular on the sites, and she'd just returned to shoot with Grooby this past May. The company will be showing the sets as a tribute to her on Black-TGirls.com, directing its members to information about her death and offering members the opportunity to donate to charity in her memory.
Grooby Producer KilaKali stated, "I saw Kayla a little less than a month ago, and I am devastated to hear about her passing. She was a great model and an even better friend. We were very close and I am going to miss her from the late-night video chats to just overall hanging out in person.
I love you, girl, and will see you on the other side."
Rest in peace, Kayla Moon.
You are gone far too soon but you will not be forgotten.