Subscription-based social media sites are gaining popularity. Perhaps the most popular of these subscription-based services is OnlyFans. But, what is it?
In this article, we'll share what OnlyFans is, how it works, who uses it, and how much you can earn on the platform. Additionally, we'll walk you through setting up your own OnlyFans account so you can jump on the subscription-based social media trend.
What Is OnlyFans?
OnlyFans is a subscription site that lets content creators monetize their influence. Creators can lock their content behind a paywall, allowing fans access for a monthly fee or one-off tip. The site founded in 2016 by British tech entrepreneur and investor Timothy Stokely and now has more than 30 million registered users and more than 450,000 content creators.
Since OnlyFans launched in 2016, the site has paid out more than $600 million to creators. Creators can allow their fans to pay for content via a monthly subscription between $4.99–$49.99 each month (OnlyFans retains a 20% fee). They can also have free pages where they then charge fans to access content via pay-per-view.
Other creators have both a free page and a subscription page to diversify and optimize their earnings. After actor Bella Thorne joined OnlyFans and racked up millions of dollars in just a few days, OnlyFans implemented transaction limits which capped PPV pricing at $50 per post and tips from new fans at $100 per tip. They also changed the payout frequency in some countries from weekly payouts to payouts every 21 days.
OnlyFans is a site, not an app. This is important to note since Apple doesn't allow apps in the App Store with "overtly sexual content." But, wait… What do they mean by sexual content?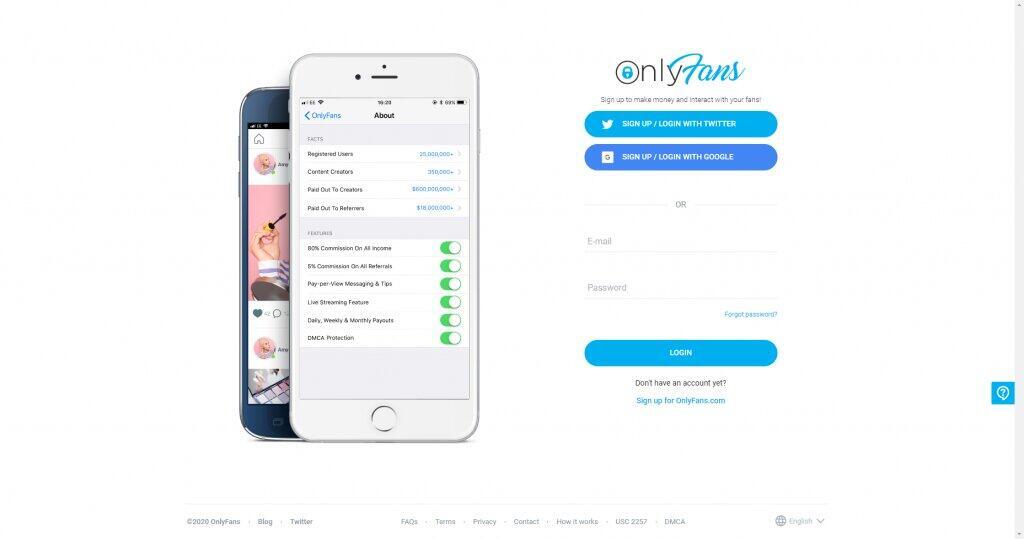 Not Just Porn… But That's a Big Part of It
OnlyFans creators can post themselves doing any number of things that wouldn't fly on other social media sites, but it is not created solely for that purpose. In fact, there are creators on the site that don't offer adult material—artists, fitness instructors, chefs, and others who want to use the site to monetize their content.
Given the site's lack of restrictions, however, OnlyFans quickly became a home for adult performers, sex workers, and models who share NSFW content.
Creators can post uncensored, X-rated pictures and videos as well as host live streams where followers can engage with creators in real-time. OnlyFans also has a messaging feature that lets creators market to their viewers similar to email marketing, letting them know about new or exclusive content, polls, and more.
These live performances go a long way toward increasing audience engagement, brand affinity, and optimizing viewership.
How Does OnlyFans Work?
OnlyFans is easy to use. Creators simply upload their content (videos, articles, photos) to the site. Creators can set their page to be free or paid and fans then pay to get access to the exclusive content. While creators can create accounts for free, when they earn money from the platform OnlyFans pays out 80%, keeping 20% of the earnings as a fee.
Since a lot of the content on OnlyFans is explicit, users have to be at least 18 and will need a government-issued ID in order to sign up. The content is also protected by OnlyFans, ensuring that it can't be shared outside of the platform. In fact, if a user tries to take a screenshot on the site, the content will show up blacked out. Users are also subject to banning if they're caught trying to screenshot or record what's going on.
OnlyFans takes privacy seriously, and it shows in how they try to protect the content that creators trust to the platform. In a statement, OnlyFans indicated that they have a "designated DMCA team that issue formal takedown notices against all reported copyright violations." The DMCA team issues notices on all illicit hosting services, target websites, and domain registrars as well as notifying all major search engines of copyright infringements.
How Much Can You Earn on OnlyFans?
OnlyFans sets minimum and maximum subscription rates. The minimum subscription price is $4.99 per month and the maximum subscription price is $49.99 per month. Creators can also set up tips or paid private messages starting at a minimum of $5. Paid tips and private messages can not only boost earnings but help creators engage their fans and build a loyal following.
Miss Swedish Bella (aka Monica Huldt) is one of the top-earning creators on OnlyFans despite the fact that her monthly subscription price is set at $6.50. She makes the bulk of her money through the fees she chargers for commissioned work sent via private message. Business Insider reports that Huldt has gained more than 1100 subscribers and brings in more than $100,000 per year on OnlyFans.
Even though Huldt had a large Instagram following before she joined OnlyFans, she revealed to Business Insider that she works on OnlyFans content seven days a week to maintain her level of earnings. Huldt offered up some advice for creators considering joining OnlyFans to earn money: "I would never advise someone doing it if they only wanted to do it like two days a week or something. It's not a part-time thing in your mind. You wouldn't make enough money."
This is Important
This is echoed by many online sex workers who have established a presence on OnlyFans. Many of them talk about how difficult it is to earn decent money on the platform since a big part of it is wrapped up in being able to build a following. Beyond that, you have to spend time and energy to produce content consistently for some time before the account starts turning a big enough profit.
Creators can sell personalized or interactive content on the site for additional fees. Some creators have built a tip menu that details the content and interactions they're offering and how much each costs. Again, OnlyFans takes 20% of the earnings creators bring in and offer this advice on earning money on the platform: "Your earning forecast really depends on the quality and quantity of the content you upload. The more you post, the more incentive there is for your fans to subscribe (and remain subscribed) to your profile."
Get Paid for OnlyFans Referrals
OnlyFans also offers a referral program in which those who refer a creator to the platform can earn 5% of the referred creator's earnings for the first 12 months up to the first $1 million earned by the referred creator. There are no limitations to the number of referred creators or total referral earnings. Referrals are paid out monthly on the first business day of the month.
The referral program used to payout 5% of the referred creator's earnings for life but with the platform's popularity, referrals are now being limited to the year following signup, up to the first $1 million earned by the referred creator.
Some creators have taken to creating and supporting a petition to push OnlyFans to reinstate the old system, especially since many sex workers are relying on the OnlyFans platform for their income.
When you consider that OnlyFans already takes 20% off the top of creator earnings, this isn't really an unfair expectation.