50 Crazy Taglines for your Blog/Website So you started a blog and want a crazy tagline for your blog/website, yes? In next 15 minutes you'll understand why having a crazy tagline for your blog will help, let's dive in.
"Pervblog – for the perv in you" looks more funny/attractive than any simple tagline for your blog"
Let's begin by Why Taglines/Slogans Are Important in Branding and why you should get one.
A slogan is usually a short phrase that captures core values, personality, and positioning of a brand. These few words might give you tons of trouble, because it's not easy to come up with a good brand slogan. That's why I wrote this article – to tell you some good examples of Crazy Taglines for your Blog/Website. Giving you an example Nike's – Just do it is more famous than anything else. Apple is known for 'Think different' and many more. For example:
Nike – "Just Do it"
Apple – "Think Different"
L'Oreal – "Because you're worth it"
KFC – "It's finger lickin' good"
Coca-Cola – "Open Happiness"
Dunkin' Donuts – "America runs on Dunkin'"
McDonald's – "I'm lovin' it"
What are Taglines?
A tagline is about the business itself, and should stand the test of time (it doesn't change).
Taglines represent the tone and feeling you want for your products or services.
It is often part of your company graphics ant it stays with you all the time.
Why you should have crazy Tagline for your Blog/Website?
Nike's 'Just do it' is different, its catchy. It works because it's motivates people. Nike is about sports and working out. "Just do it" sounds like a personal trainer, pushing you to get up from that couch and do the work to get results. When IBM released 'Think' slogan, Apple countered it by 'Think diffrent', Apple went so audacious and perhaps preposterous by placing great minds and achievers next to the Apple logo: Albert Einstein, Muhammad Ali, Gandhi, Bob Dylan, and Amelia Earheart. The "Think different" slogan broke the internet that Apple achieved one of the greatest corporate turnarounds in business history.
Apple's 'Think different' Tagline is considered one of the most successful tagline.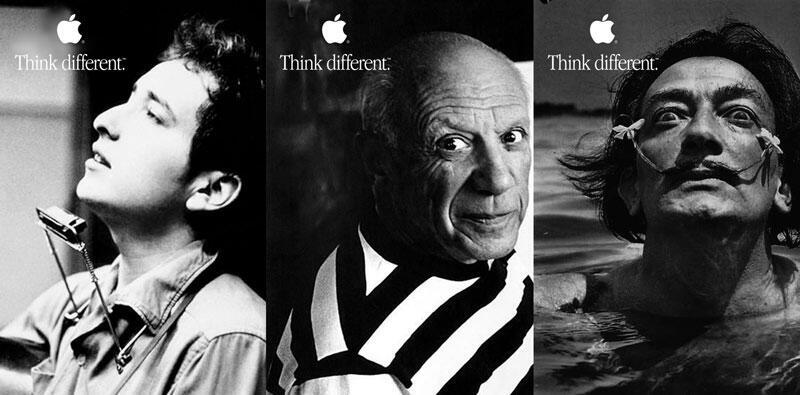 Simple is basic and it do not attract attention, that's why I suggest you keep you Blog's tagline simple yet crazy as it sets you apart from the Competition.
Internet is bigger than Pacific now and every day thaousands of blogs are being made and shut. You need to stand out? Ain't you? You can definitely stand out with a clever/crazy Blog tagline. I mean obviousely you can't count on visitors to read your "about" page when anyone landing on your page just grasps the info you provide and close the tab. In this competition such as a clever tagline can make all the difference. Taglines are your brand's elevator pitch and help people get a quick snapshot of who you are. It's your opportunity to be descriptive, catchy, memorable and create a unique brand for your blog. They also present a great opportunity for keyword inclusion, but not at the sacrifice of stickiness. Ideally you can combine something catchy and SEO friendly.
I've compiled over 50+ Crazy Taglines for your Blog/Website.
Pervblog: For the perv in you
Boing Boing: A directory of wonderful things
PR Squared: It may be the future but you still gotta eat
The Consumerist: Shoppers bite back
Yoast: Tweaking Websites
Natalia Antonova – The sky is high. The Czar is far.
/Film: Blogging the reel world
Psyblog: Understand your mind (This one is something like me.)
Lifehacker: Tips and downloads for getting things done
Simply Fired: If you don't laugh, you'll cry.
So Good: An absurd look at the world of food
Get Rich Slowly: Personal finance that makes cents
Personal Branding Blog: Navigating YOU to future success
SEO Book: Learn. Rank. Dominate.
The Impulsive Buy: Putting the "ew" in product reviews
PluginID: Plugin to your identity
Zen Habits: Simple Productivity
Advergirl: …yeah, I have an opinion about that
TwiTip: Twitter tips in 140 characters or more
Duct Tape Marketing: Simple, effective and affordable small business marketing
Apartment Therapy: Saving the world, one room at a time
TechCult: Technology, Twisted
Illuminated Mind: The less boring side of personal development
Don't Drink The Kool-aid: Join the conversations. Just don't drink the Kool-aid.
Slashdot: News for nerds, stuff that matters
Crazy/Catchy blog taglines play important part because they have the potential to drive visitors to your blog. If it's little out of the box it makes the visitor smile a bit and part in her/his mind. He'll definitely click on yours post when Google indexes you in search results next time.
To be true, Blog taglines matter but not that much. If you've good content it doesn't matters you have a tagline or not. Many of the popular blogs/websites do not tagline. Yes you hear it right. I mean why do sites like Huffpost, Techradar or Brazzers need a tagline?
To give you an Idea if you really want a catchy/ crazy tagline for you blog. Please go through this amazing Infographic post on "10 Creative ways to Name a Blog"